Supporting Bullying Laws
in New Mexico
New Mexico has state legislation in place to bring awareness to bullying, harassment, and intimidation with the goal of creating a safe inclusive environment for all students.
With schools using technology for learning, students are using technology more than ever before, which is why protecting students from online dangers is crucial. New Mexico has state legislature in place to aim at preventing bullying, harassment, and intimidation in schools and districts.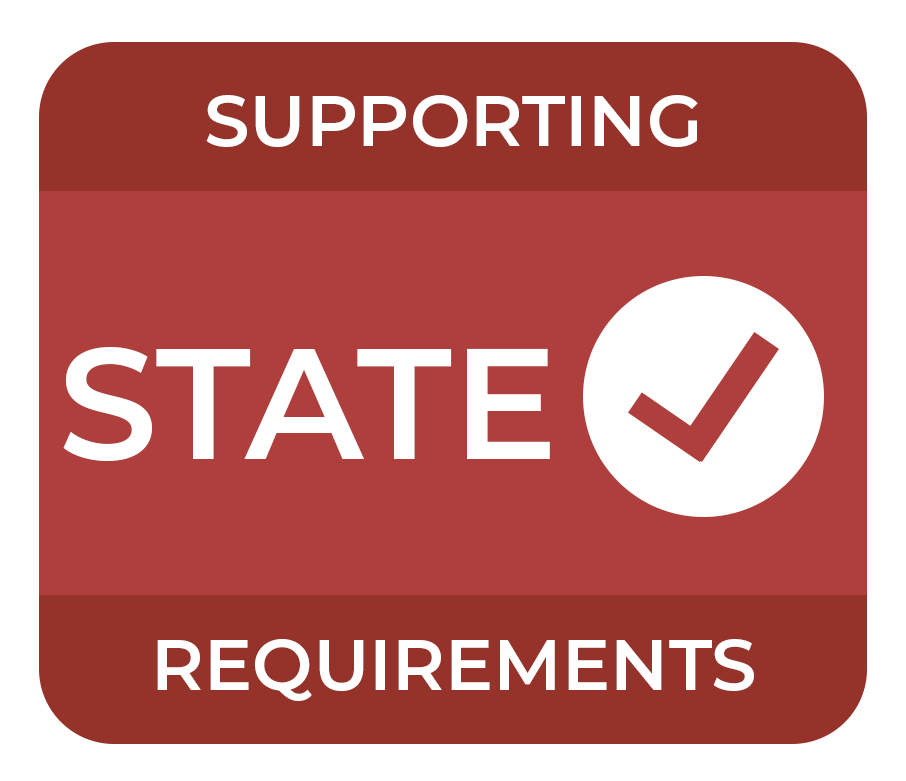 What is bullying?
New Mexico's state anti-bullying legislation was strengthened to include the Safe Schools for All Students Act, Senate Bill 288, which defines bullying as meaning "any severe, pervasive, or persistent act or conduct that targets a student, whether physically, electronically, or verbally, and that: may be based on a student's actual or perceived race, religion, color, national origin, ancestry, sex, sexual orientation, gender identify, spousal affiliation, physical or cognitive disability, or any other distinguishing characteristic; or an association with a person, or group with any person, with one or more of the actual or perceived distinguishing characteristics; and can be reasonably predicted to:
Place a student in reasonable fear of physical harm to the student's person or property;
Substantially interfere with a student's academic performance, attendance, or participation in extracurricular activities;
Cause a substantial detrimental effect on a student's physical or mental health;
Substantially interfere with a student's ability to participate in or benefit from the services, activities, or privileges provided by a school or school-affiliated entity.
"Cyberbullying" means any bullying that takes place through electronic communication.
"Electronic communication" means a communication transmitted by means of an electronic device, including a telephone, cellular phone, computer, electronic tablet, pager or video or audio recording device.
What does this legislation require schools to do?
New Mexico school districts must adopt a policy and procedure to aid in the prevention of harassment, intimidation, and bullying. Each school board or governing body shall adopt bullying prevention policies that:
Prevent instances of bullying and cyberbullying on its property, at school or district sponsored events and on school sponsored transportation inclusive of electronic communication.
Include definitions as set forth in the Act.
Include a statement prohibiting bullying and a statement prohibiting retaliation against those who report or witness bullying.
Include a list of consequences, exclusive of suspension or expulsion, designed to correct bullying behavior, prevent further occurrences, and protect the target of the bullying.
Set forth procedures for reporting bullying and for reporting instances of retaliation for reporting an act of bullying. Reports may be made orally, in the preferred language of the reporter, anonymously, and by parents in written form.
Education solutions that support this law
Find out how our education solutions support this law, helping to create a safer online environment for all students.
NetSupport School – In-school classroom management
For over 32 years, NetSupport School is the market-leading multi-platform Classroom Management software solution for schools, supporting teachers with a wealth of assessment, monitoring, collaboration and eSafety features – to support effective learning in a safe environment.
Authorized/restricted website and application lists can ensure students are focused and help minimize student distraction and access to inappropriate content.
Monitor students' current Internet use by viewing

real-time

thumbnails of their PCs to ensure they are on task – plus, teachers can create a record of Internet history use to be printed or saved for later reference.
Real-time keyboard monitoring provides a simple view of each active student and their current keyboard input – a crucial aspect in detecting e-safety issues and can be used to identify inappropriate behavior.
Teachers can show their screen or a student's screen to demonstrate positive digital interactions while promoting appropriate technology use, helping to create good digital citizens.
Student feedback mode allows teachers to gauge

students' wellbeing

and get insight into whether they need extra support.
The Technician Console allows schools to apply 'always on' internet, application, printing policies and more.
classroom.cloud - Online teaching and learning
classroom.cloud provides a range of features to help teachers manage and control online class behavior (helping to keep students focused and safe), plus a set of simple yet effective teaching tools to support engaging and meaningful learning – whether it's taking place in school or remotely at  home. 
Teachers can show their screen

to demonstrate positive digital interactions while promoting appropriate technology use, helping to create good digital citizens.
Monitor students' screens to see what they're typing and who they're collaborating with in real time to ensure they're on task and remain focused on the lesson.
'Allowed' and 'restricted' website/application lists help teachers provide a safe learning environment by ensuring students can only access relevant websites and are shielded from unsuitable content during lesson time.
Keyword monitoring

(powered by over 14,000 phrases covering a range of eSafety topics) helps to provide insight into trending issues – plus, schools and districts can also add their own keywords.

 

Word cloud of trending topics  helps teachers to quickly spot trends and identify potential risks – with detailed reporting to further protect students.
Identify and support vulnerable students with the contextual intelligence Risk Index. This assesses the context and history of a student's current activities (the device used, time of day, websites visited, and applications used) and considers them alongside any previous alerts they may have triggered.
Keeping track of events  is super easy, as all new events are flagged as being 'new' and progress can be marked to ensure all supporting staff are aware.
Choose your monitoring settings  to reduce false alarms by excluding certain applications and websites (including Microsoft Teams) from being monitored to focus on more high-risk areas.
Keeping things super secure  is a breeze with two levels of staff access to ensure only authorized users have access and control over online safety settings.
Set monitoring hours to specify when students are being monitored, for example, only during school hours, at all times when using their school devices, or only on the school network.
NetSupport DNA – IT Management with school-wide eSafety
In addition to providing IT Management tools, NetSupport DNA also includes a built-in internet safety toolkit as standard to help enhance schools' internet safety policies. It provides the tools needed to identify students at risk, prevent them being exposed to inappropriate online content, encourage greater digital citizenship, and fulfil a school's internet safety duties – all in line with ISTE guidance.
Keyword and phrase monitoring tool allows schools to quickly gain insights into what students are typing, searching for, or copying online – and it's available in multiple language packs.
Innovative word cloud helps to easily highlight trending topics across the school – while appropriate staff are alerted through email, real-time pop-ups or summary reports, prompting them to review the triggered event.
Contextual intelligence-based Risk Index automatically flags high-risk events and vulnerable students, creating a risk index number for each event, based on sophisticated contextual intelligence risk analysis.
'History of Concerns' is available to help identify students that were flagged as vulnerable or at-risk, ensuring they have extra support.
Report a concern allows students to reach out for support in confidence to a teacher they trust, and teachers can also add any concerns they have about a student.
Age-appropriate Internet monitoring tools ensure students are using the Internet properly with age-appropriate profiles – creating a safer Internet with parameters to allow students the flexibility to learn about the online world in safety.
Apps and games can also be blocked or restricted to help schools add an extra layer of security and keep students on task. The application metering reports reveal application use, helping to ensure usage complies with school policy.
From online safety guides and how to create a school digital strategy, to meeting ISTE or CIPA requirements, check out our FREE guides.